Maywood Mutual Water Co. #1
is responsible for providing potable water to approximately 1,176 service connections.

70% percent of our customers are located in the city of Huntington Park and 30% is in the city of Maywood.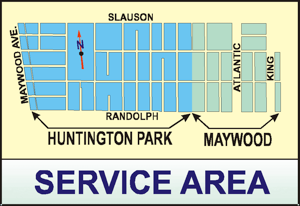 Maywood Mutual Water Co. is a non-profit corporation, serving you and our community.
​
Any revenue generated goes back into the water company for daily expenses and for improvements, or upgrades to the water system. We all work for you, our customer. Functions: ​
Installation of new water services
Replacement of worn or broken water meters
Repairs to water mains and water service lines
Bimonthly meter reading
Bimonthly billing and mailing
Replacement of knocked down fire hydrants
Fire hydrant valve exercising
Fire hydrant flushing
Fire hydrant repairs
Street valve exercising
Street valve exchange
Add new street valves
Maintenance to booster and well pumps at the main plant (two sites)
Maintenance to chlorination pumps at the water well sites (two sites)
Monitor the water distribution system daily for chlorine residuals (three sites)
Weekly testing of possible bacteria (two sites)
Monitors ground water pumping and water quality data (two sites)
Monthly extraction and water quality data for reports to regional and state agencies
Ensure that the primary drinking water standards are met as required by the California's Department of Public Health (CDPH) and The Environmental Protection Agency (EPA)
Oversee large pipeline or repair construction projects
Respond to any customers concerns and attend community meetings
Investigate any customer's water quality concerns
Cleaning and maintenance of all well sites
Security at the water plants
24 hours / 7 days a week - emergency service response
Ensure adequate water pressure for our community's fire protection and safety.